Company
Company SANIDAS was founded in Goumenissa-Kilkis in 1984 by Mr. Evagelos Sanidas and today actives in all Greece, Cyprus, Bulgaria, FY.RO.M, and Rumania. Firstly, the purpose of the company was to manufacture agricultural machinery. In a short time, because of the fact that the area belongs to a traditional region of vineyards, start to constructed special agricultural machinery for viticulture.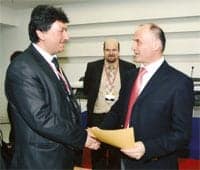 Company SANIDAS making continuous testing and created innovative machines also cooperated with foreign companies of its kind and complete a perfect line of wine-growing equipment. For all wine works, from the beginning to the end, have modern, efficient and functional machines that cater to every producer.
To cultivate the vines applied innovations that recognized and awarded by many sectors and organizations. Diploma of "Patent" from Hellenic Organization of Industrial Property, Award "Bid & Recognition" for innovative creation and brand-name product of Kilkis from Chamber of Kilkis, Award "Innovation" for viticulture about "PRUNING SK4" machine from National contest by Hellenic Association of Graduate oenologists.
The last years in cooperation with the German company K.UL.T. created a new range of specialized machinery about mechanical weed control in vegetables, herbs, medicinal plants, special crops, ornamental plants, nurseries.
All the tools thoroughly have been tested in organic farms with different cultures and circumstances. Because of the fact that all the human being is highly qualified, guarantees:
High quality
Fully functioning
Quick and effortless working
All the machines have:
CE
Certification from the Institute of Agricultural machinery and constructions.
Warranty
Full technical support anytime
In company SANIDAS you can find the exclusive dealerships of companies: Clemens GmbH&Co. KG, Binger-Seilzug GmbH&Co. KG, Seibert Geratebau(BELI) GmbH, KULT GmbH, W-PERFECT, I.ME.CA.
Furthermore, you can find products of companies: ERO-Geratebau GmbH, A.Spedo&Figli s.r.l., Caeb-International s.r.l., Sciacco s.r.l.
All machines are available in the showroom located in its offices (1st km Goumenissa-Polykastro). If you are far away…the website (sanidas-e.gr) is a place to find all the information and get a complete picture of the range of machines that have the company.