Binding Tools
Binding Tools Type Beli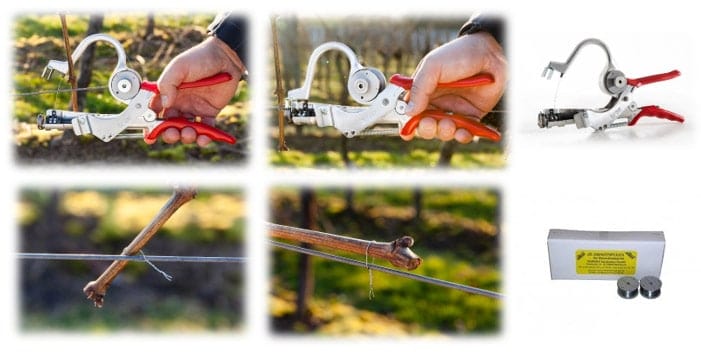 Standard equipment
Technical specifications
The weight of binding tool complete with full wire roll is 470 gr
Binding opening: 27mm
Working hour of binding: approx. 14 up to 16 h/10acres
The roll of wire has 80m of special wire, which is enough for approx. 800 up to 1000 bindings
9 rolls in  10 actres
The change of wire is simple and fast
Αdvantages:
Saving time thanks to quick binding Required working hour approx.14 up to 16 hours per 10 actres. When the shoots cutted, then you can pull over the bindings from previous years together with old plant – is not necessary to cut it!
Reduce costs The binding tool "Beli" gives you your money back in a sort time due to quick way of work and thanks to special binding wire.
The work is made with easy and relaxing way The weight of binding tool complete with full wire roll is not upper than 470 gr, so the working time with this tool is easy and is not required extra strength.
The tool has long service life and repaired easily All the parts can be changed or replaced with low cost.
Environmental friendly wire Because of the fact that the wire is from steel, is very friendly to the environment. The steel comes from nature and degraded again after short period of time without leaving residues in nature.
Binding Tools Type Lea

Standard equipment
Technical specifications
Weight of binding tool 736 gr
Binding opening: 30mm
Binding material: Wire Φ 0,40mm coated with bioplastic or paper.
4, 6 and 10 turns adjustable
Ergonomic handle
Automatic shutdown after 15' of standstill.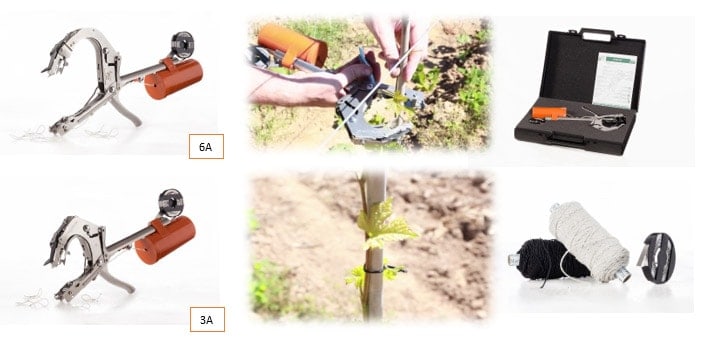 Binding Tools Type Attalink
Type
ATTALINK 3A, binding opening 4,4cm
ATTALINK 6A, binding opening 8,2cm
Technical specifications
Weight of binding tool 3Α: 520 gr, 6Α: 630 gr,
Two binding materials: degradable or long-lasting, depending of the use.
Product Photos