Weeding Machine ECO
SANIDAS – Weeding machine Typ. ECO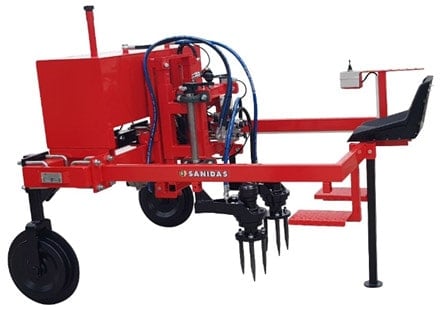 The smart design of ECO combines a novelty and great dynamic, it is constructed for removing weeds between the plants and the row. The main purpose is to be used in BIO-farms with various of plants, different row distances, under various conditions, even on beds or grooves.
The innovation of ECO is based on its expertise to be adapted to all conditions quickly and efficiently. The ergonomic design of this cultivator saves time and money from farmer because of the adjustable height of working head. All weeds are effectively removed and the plant remains clear and strong.
So, all the above characteristics make the ECO one of the best innovation weeder!
Technical specifications:
ECO-1, suitable for 1 row cultivation, row distance min. 400mm
Manual or with joystic
The height of working head can be adjusted manual or hydraulic.
ΤΥPE

KG

HP

ECO-1, manual

direct connection to the tractor or using hydraulic kit

40+

ECO-1, with joystick
with hydraulic kit

40+
Options:
Working element, 5 cases x 2pcs
Video