ForkLift
iLmer – Forklift Typ. K2-D
K2-D was designed to work with bins, it has hydraulic holding system specially designed for that use.

Technical specifications
Lifting power: 1500kg
Best view of loading area!
Extremely stable!
Hydraulic fork closer
Hydraulic side shift 19cm (9,5cm per side)
Max. tilt 20cm, thanks to custom-made hydraulic top link
Required controls of tractor: 4 x (d-a) + 1 pressure-free return
Type
K2 D175, Lifting height 170 cm, Attached height 170 cm, KG 339
K2 D195, Lifting height 190 cm, Attached height 180 cm, KG 355
K2 D235, Lifting height 235 cm, Attached height 200 cm, KG 386
K2 D255, Lifting height 250 cm, Attached height 208 cm, KG 398
K2 D275, Lifting height 275 cm, Attached height 220 cm, KG 411
iLmer – Forklift Typ. ECO
K2-D was designed to work with euro-pallets. On request can be constructed with shorther forks. The fork width chages easily. Also, ΕCO can be works with bins but doesn't have holding system.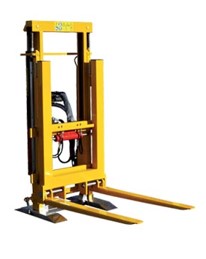 Technical specifications
Lifting power: 1500kg
Best view of loading area!
Extremely stable!
Mechanical fork closer
Hydraulic side shift 19cm (9,5cm per side)
Max. tilt 20cm, thanks to custom-made hydraulic top link
Manual fork adjustment for different pallet dimensions
Required controls of tractor: 4 x (d-a) + 1 pressure-free return
Type
ECO 175, Lifting height 170 cm, Attached height 170 cm, KG 314
ECO 195, Lifting height 190 cm, Attached height 180 cm, KG 355
ECO 235, Lifting height 235 cm, Attached height 200 cm, KG 386
ECO 255, Lifting height 250 cm, Attached height 208 cm, KG 398
ECO 275, Lifting height 275 cm, Attached height 220 cm, KG 411
Options for Typ. K2-D, ECO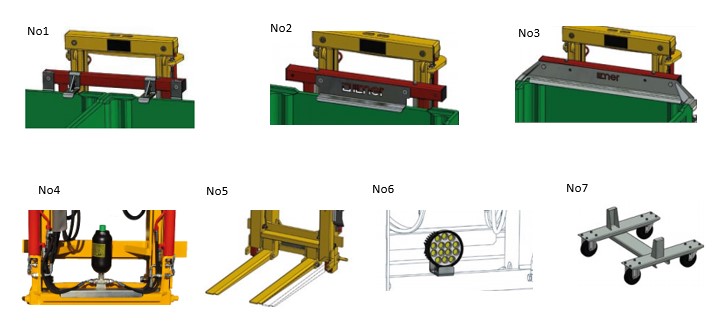 (No1) 2 holder bins, enables transportation of up to 4 bins or fast unloading of up to 8 empty bins
(No2) Central bin holder hook, fixes the bin over a full side, enables transportation of up to 4 bins.
(No3) Central Bin holder hook with side fixation, clamping the bins with maximum safety and stability
(No4) Shock absorber, protects the fruits of harvesting from vibrations and hard knocks during transport.
(No5) Manual linear adjustment for fork to 3 positions: Fork distance outside 71 – 60 – 49 cm
(No6) LED headlights, the low position provides optimum illumination of the loading area. Εven in darkness the load area can be stacked precisely and safely. Required connections: 12 Volt power connection, 2 poles
(No7) Storage and transfer frame
Control 4-shifts / Control Joystick
Product Photos